This month in the InMon Universe: Researched various writing competitions, read sample winners, and found most of them depressing. Then I discovered the To Hull and Back humorous writing contest. The winner's face gets pasted on the anthology's cover illustration of a person riding a Harley and holding a flaming quill pen. The contest creator then straps the book to the handlebars of his actual hog and rides it, you guessed it, to Hull and back, and films it all with a GoPro. The man is a genius. Bless him.
And now for our top stories!
–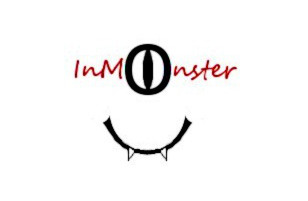 The Rules
There are none. Read the prompts, get inspired, write something. No word count minimum or maximum. You don't have to include the exact prompt in your piece, and you can interpret the prompt(s) any way you like.
OR
No really; I need rules!
Okay; write 200-500 words on the prompt of your choice. You may either use the prompt as the title of your piece or work it into the body of your piece. You must complete it before 6 pm CST on the first Monday  of the month following this post.
The Prompts:*
THE CITY THAT ALWAYS SLEEPS
NEON CAMOUFLAGE
DOOM PUPPET
STREET SOPHISTICATION
ROBOT PSYCHOLOGY
Want to share your Inspiration Monday piece? Post it on your blog and then give me the link in the comments below (I'll also love you more if you link back to me); I'll include a link to your piece in the next Inspiration Monday post. No blog? Email your piece to me at stephanie (at) bekindrewrite (dot) com. (I do reserve the right to NOT link to a piece as stated in my Link Discretion Policy.)
Plus, get the InMon badge for your site here.
Happy writing!
–
* This month's prompts another joint effort with Jubilare.