A week or so ago, Jubilare, my penpal and one of my favorite bloggers (also one of the smartest people I know), sent an award to this blog. (Thank you, Anne!)
The award was delivered by dragon.
The dragon also brought a set of instructions.
In my experience, when a 42-ton mass of rock-hard muscle and steely scales – which is capable of incinerating a small building with an accidental sneeze – asks you to do something, you do it. (Not helping him floss, though – never help a dragon with dental work.)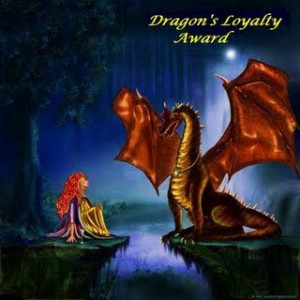 The Instructions
Display award on your blog.
Announce your win with a post and thank the Blogger who awarded you.
Present 15 deserving bloggers with award
Link your awardees in the post and let them know of their being awarded.
Write seven interesting things about you.
Whom Shall I Award?
It's kind of unfair of Anne to do this, because I would've given it to her. But of course there are dozens of other bloggers who have turned out week after week for Inspiration Monday, giving me hours of entertainment.
Sadly, I cannot thank all of the InMonsters by name – there have been too many over the years. So (by instruction of the dragon) I'll confine myself to the fifteen who've been active in the last few months. Some of these have been with me for years, some have just shown up in the last few weeks, and I'm grateful for them all.
7 Interesting Facts About InMonster Zero
I was born on National Talk Like a Pirate Day.
I can sing. I'm not bad.
I am licensed by the state of Texas to carry a concealed firearm.
I have never broken a bone or been stung by a bee, but I did have gum graft surgery once.
I have chronic nosebleeds, which I combat with a daily bioflavenoid supplement.
As children, my friends and I used to act out Shakespeare plays with Star Wars action figures. Mostly A Midsummer Night's Dream.
Sometimes I wish I smoked, because it seems like such a writerly thing to do while you are sitting at your typewriter trying to think of words. Of course I've never wanted it enough to spend money on something that will give me mouth and/or lung cancer. So mainly I'm just waiting for them to invent a bubble pipe that actually works.
–
Cheers, monsters! Hope to read all your fun facts soon.