Went to a library book sale over the weekend (I know, drool!). Check out my haul!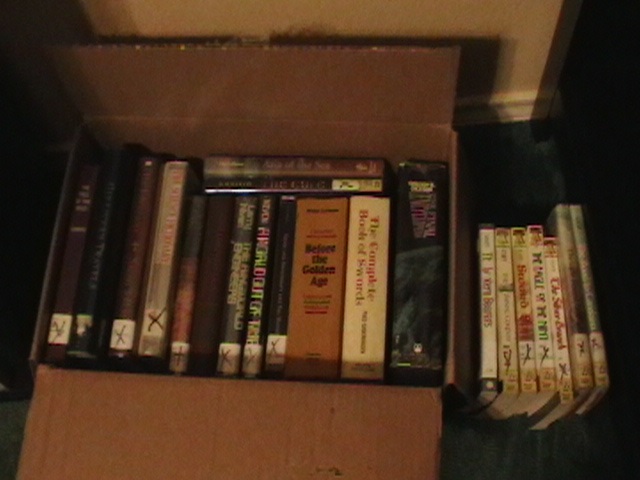 In total, 21 books for $18. And David at The Warden's Walk will be pleased to know, all those on the side are Rosemary Sutcliff – even though most of them are paperback, and even though I already have Eagle of the Ninth. Because when it's a dollar or less and somebody as smart as David raves about them, you'd better grab them. Here's a close-up.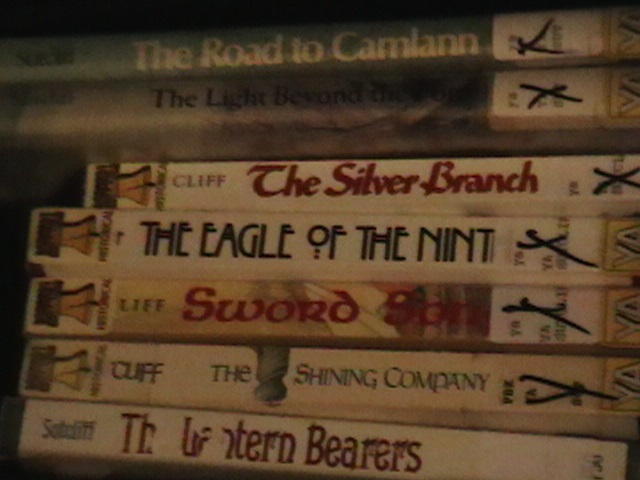 Now to the task of removing the library trappings and the ensuing excessive stickiness!
Meanwhile, you can read some other fiction absolutely free:
WritingSprint and another
—
The Rules
There are none. Read the prompts, get inspired, write something. No word count minimum or maximum. You don't have to include the exact prompt in your piece, and you can interpret the prompt(s) any way you like.
OR
No really; I need rules!
Okay; write 200-500 words on the prompt of your choice. You may either use the prompt as the title of your piece or work it into the body of your piece. You must complete it before 6 pm CST on the Monday following this post.
The Prompts:
THE MAN IN THE RADIO
RUN FROM THE WORDS
SILENT PAGES
ADAM BOMB
 HIGH IN FIBER
Want to share your Inspiration Monday piece? Post it on your blog and link back to today's post; I'll include a link to your piece in the next Inspiration Monday post. No blog? Email your piece to me at bekindrewrite (at) yahoo (dot) com. (I do reserve the right to NOT link to a piece as stated in my Link Discretion Policy.)
Plus, get the InMon badge for your site here.
Happy writing!